Realising a Carbon Positive Future – From Declaration to Action | Melbourne Collaborative Event
31 October 2019 at 6:00 pm

-

8:00 pm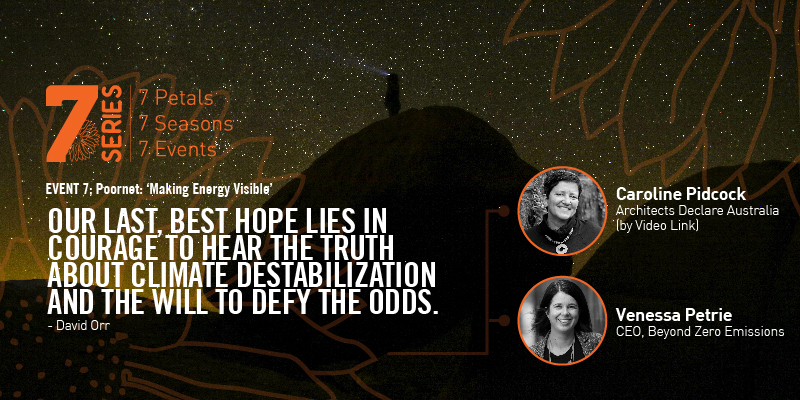 Join th

e latest (and last!) event in our '7 Seasons, 7 Petals' speaker evenings! This month we celebrate Poornet (Tadpole) season and explore the LBC Energy Petal in the context of the climate emergency and the transition to a carbon positive future.
Local governments, private sector organisations and built environment practitioners are all moving quickly to recognise the climate emergency and adopt purposeful and ambitious actions to reduce their direct carbon emissions and influence further reductions across their supply chains.  Why have so many organisations made the decision to declare a climate emergency and what actions are they now taking in response?  At this event we will hear from those who are helping lead this change and what we can all do within our own sphere of influence.
SPEAKERS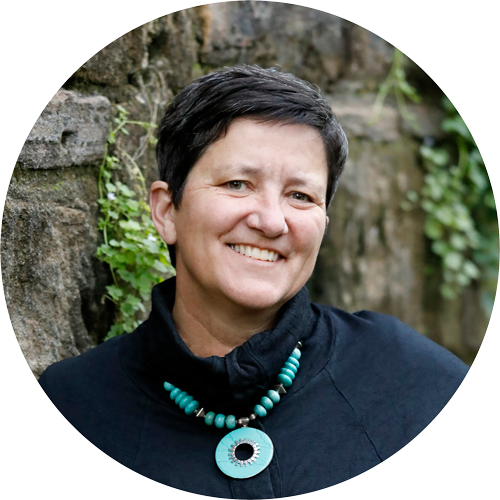 Caroline Pidcock was born in Grafton and raised in Sydney, and has been shaped by their mighty water systems. She is passionate about architecture, biophilia and regenerative design, and how she can co-create an abundant living future. Her authentic interest and experience has been developed and enhanced through her involvement in a diverse range of professional, academic and community commitments.
In addition to her own practice (which is currently involved with First Steps Count, Taree - seeking LBC certification), other roles Caroline currently enjoys include being Chair of 1 Million Women, member of Renew Australia (previously ATA) Board, Sydney Olympic Park Authority (SOPA) Design Review Panel and the Liverpool Design Excellence Panel.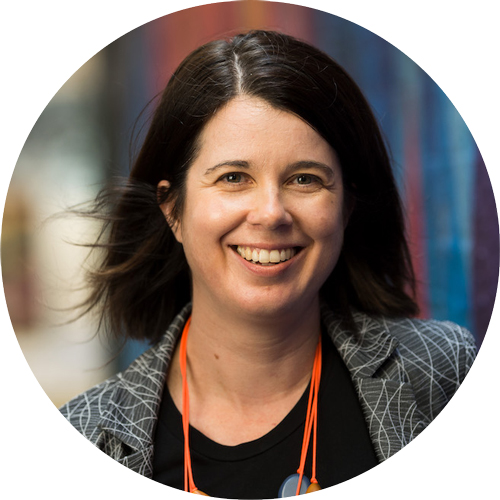 Since joining Beyond Zero Emissions (BZE) in early 2017 Vanessa has partnered with her team to deliver Rethinking Cement, the world's first strategy for decarbonising the cement industry, the Zero Carbon Communities Guide, won Best International Energy Think Tank in the 2018 Prospect Think Tank Awards, and secured BZE's ranking as 50th Best Independent Think Tank in the world.
Prior to joining BZE, Vanessa worked in diverse roles across local and State Government including infrastructure planning and project management, legislative policy development, major policy reform and waste and resource recovery strategic planning.
Vanessa is a Director of the Goulburn Valley Waste and Resource Recovery Group Board, and member of the Climate Emergency Darebin Management Committee.  She has a Bachelor of Environmental Engineering from RMIT University and a Masters of Environment from the University of Melbourne.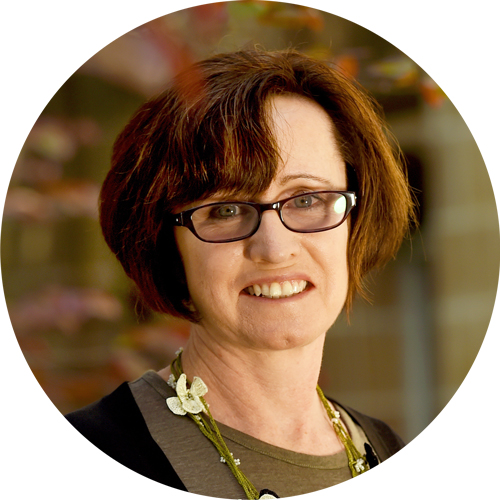 Clare Walker leads Sustainability as a guiding principle of the University and provides the strategic direction and governance for all related endeavours across University activities. Based in the Chancellery, Clare oversees the integration of sustainability into all University activities – research, teaching, engagement, operations and governance.
Clare is the Executive Officer for the Sustainability Executive, which has led the development of the University's sustainability framework from mid-2015 to early 2017. This framework includes an enduring Sustainability Charter, a strategic plan for 2017-2020 and annual public reporting using the GRI standard.
Clare has been with the University of Melbourne for ten years and brings extensive experience from the large corporate environment and academic study across a number of disciplines, together with a deep commitment to sustainability and the environment.
THIS SESSION WILL COVER: Living Building Challenge – Energy Petal
The Living Building Challenge™ is a building certification program, advocacy tool and philosophy that defines the most advanced measure of sustainability in the built environment possible today and acts to rapidly diminish the gap between current limits and the end-game positive solutions we seek. The Living Building Challenge (LBC) poses the question, "What if every single act of design and construction made the world a better place?" LBC's seven performance standards, or Petals, align with the metaphor of our buildings being designed to emulate flowers – harvesting energy and water in place, using locally available materials, connecting to and enhancing the ecosystem in which they exist, and being beautiful.
The intent of the Energy Petal is to create new sources of renewable energy that allow projects to operate year-round in a resilient, carbon pollution-free manner. In addition, the Energy Petal prioritizes energy efficiency as a means to reduce wasteful spending, of energy, resources, and capital. The Energy Petal attempts to establish a new paradigm for humans' relationship with energy, in which the places we live, work and play become catalysts for a healthy and resilient future.  This Petal consists of two imperatives.  The first, Energy and Carbon Reduction, requires projects to achieve a specific reduction in total net annual energy consumption after accounting for on-site renewable power.  The second, Net Positive Carbon, requires that projects supply one hundred and five percent of their project's energy needs through on-site renewable energy on a net annual basis, without the use of combustion.
The Collaborative is a volunteer effort overseen by the Living Future Insitute of Australia, as part of the International Living Future Institute's Living Future Network.