Why did you first get involved at the LFIA?
I wanted to contribute directly to what good development looks like. Having been involved in environmental regulation for many years I was keen to put my personal energies into projects that go well beyond regulatory compliance and surpass accepted best practice to define 'next practice' in shaping our society through the places and buildings we create.
What are your hopes for our industry?
That we embrace the challenge of leadership and create the environments we need to thrive into the future.
Tell us three things most people don't know about you (where at least two of them should be true!)
I'm pretty much an open book with a record of over-sharing so this is hard.
1. I refused to swim or even go in the water until I was 11, since then I have taken every opportunity I could to surf, SUP, swim, dive, kayak….
2. Despite years of practice I can't touch my toes, making the point that some of us just aren't built to do yoga
3. I sincerely believe more can be achieved through government constructing the right market conditions than through any regulation
BTW, they are all true
What's your favourite childhood memory?
Playing with my brother, we were always up to something.
Where do you see yourself in 5 years?
Making a positive contribution to the community I live in and Australian society in general –what form that will take is the adventure I am on.
You're happiest when?
Its dawn, the surf is cranking, the winds offshore and I'm there.
Do you have a favourite quote? Or a motto or personal mantra?
"S#*t or get off the pot."
It talks to me on several levels:
• Do the job or get out of the way
• Don't spend too long on unpleasant tasks
• Don't procrastinate
• Metaphoric fibre is important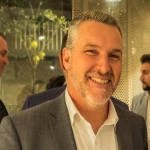 Tom Grosskopf is the Secretary of the Board of the Living Future Institute of Australia.