BIOPHILIC DESIGN CASE STUDY: Pavone House
Wurundjeri Country, Melbourne, VIC
WINNER: Interior & Renovation, National Biophilic Design Awards 2023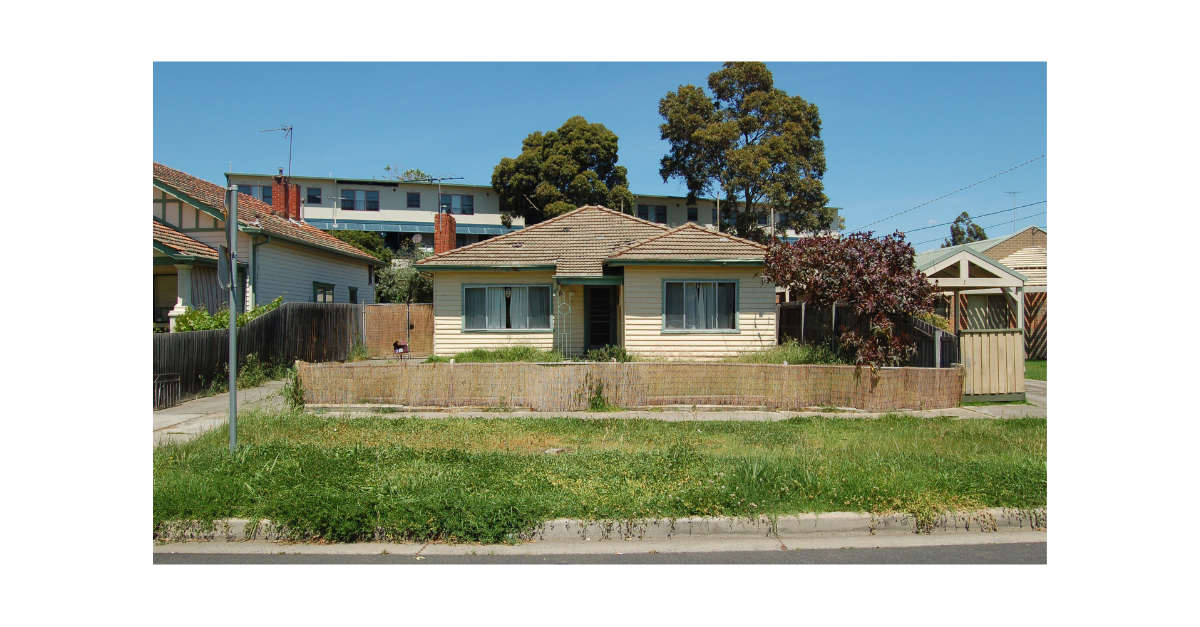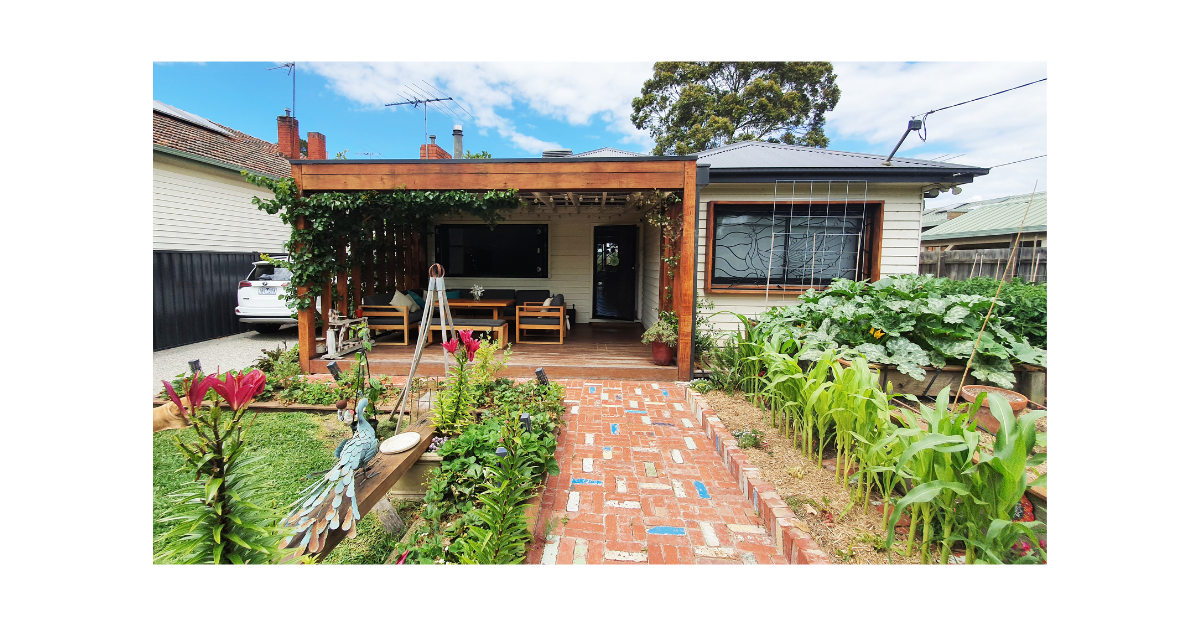 Location: Wurundjeri Country, Melbourne VIC
Client: Private Owner
Typology: Residential
Site Area: 155m2
The name Pavone (meaning 'peacock' in Italian) pays tribute to the heritage of the Peacock Street dwelling. It is owned and occupied by Dr Pippa Soccio and her family; five generations of the family have now resided at the address first purchased by her husband's grandparents in the 1950s.
Pippa is an architect and lecturer in Teaching and Learning (Built Environments) at the University of Melbourne's School of Design. The renovation provided a testing ground for her PhD studies on indoor environment quality (IEQ) in schools. Pippa sees synergies between biophilic design and IEQ that can be leveraged to promote wellbeing and energy efficiency. With fresh airflow and natural light, Pavone House has a more stable internal temperature range and decreased energy use post-renovation.
Pavone House encourages gathering, be it in the kitchen – the heart of the home – or with neighbours in the food-producing front yard. It's also a sanctuary with considered acoustic design and private spaces for retreat. Above all else, it is a family home designed for its occupants not just to live, but to thrive.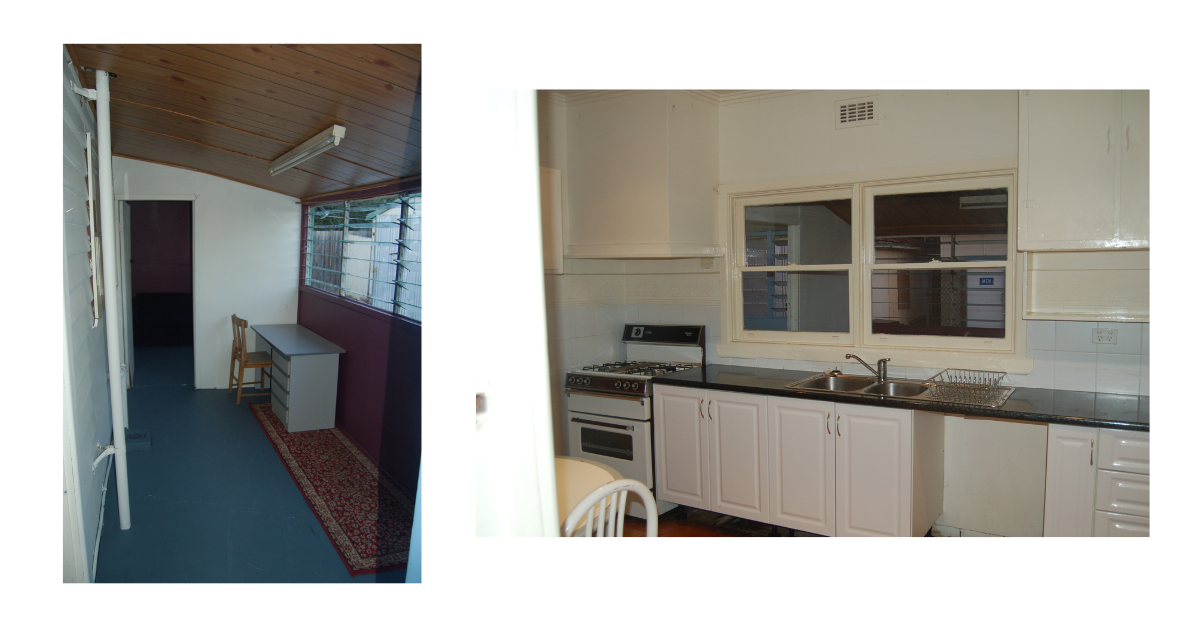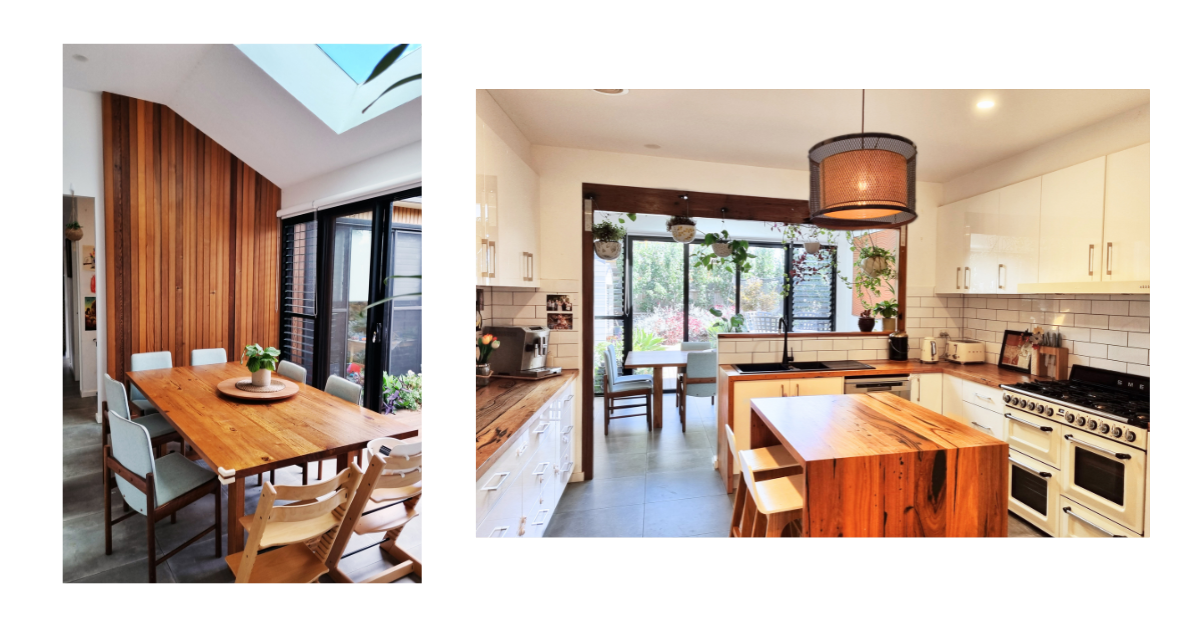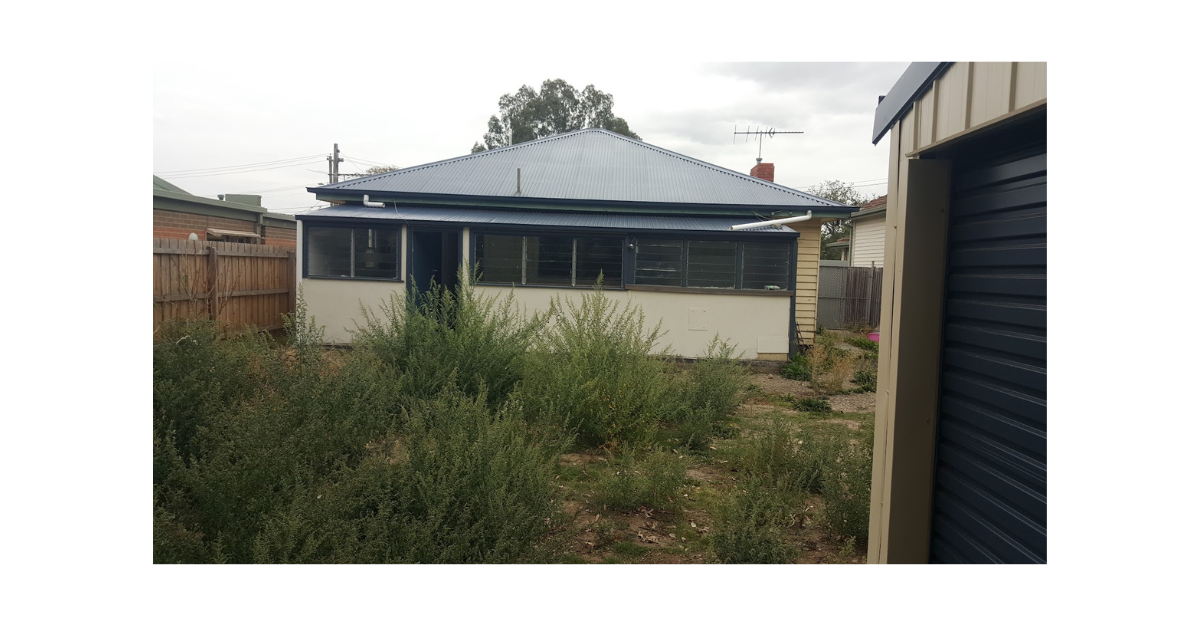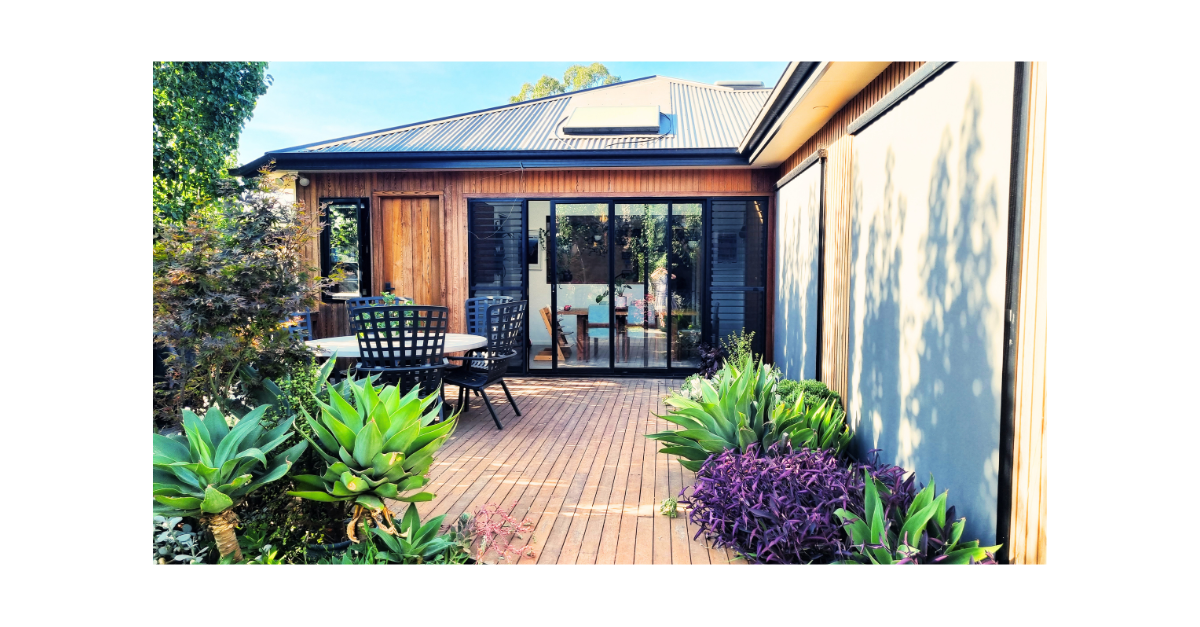 How is it Biophilic?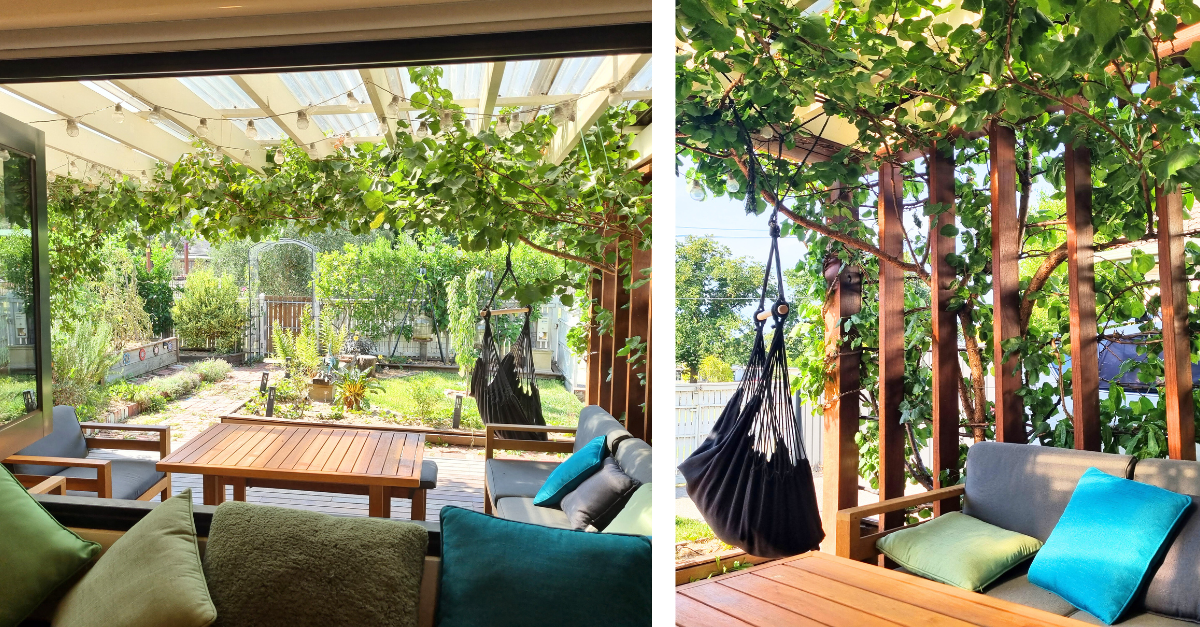 Direct experience of nature: The north facing pergola is an interstitial space. The line between indoor and outdoor is blurred by a large (yet young) apricot and nectarine trees, which are espaliering to the structural frame. The natural canopy provides shade and dappled light.
Prospect and refuge: Unlike other more formal areas that serve very specific functions, this outdoor room is multi-dimensional. It's a place of retreat with a book or cup of tea; quiet reflection and calm; conversations with neighbours passing by and strangers inquiring about produce in the vegetable garden.
Age, change, and the patina of time: The design intent was to apply the 'Home for Life' principle. Deliberate, upfront decisions to prolong the life of the structure and services were made during the renovation. This means that at four distinct stages of life, the house can be easily adapted, to meet the changing needs of the family's physical, psycho-logical and physiological comfort.
Phase One: With young children and parents that temporarily reside at the home for three months of the year. Generous communal spaces give way to three distinct private zones. When parents visit, they appreciate the autonomy to 'come-and-go' through their own entry, creating a sense of privacy.
Phase Two: A future scenario where a parent lives at the home permanently. In this case, the master bedroom and ensuite can transform into an Assisted Living Space. Planning ahead for things like grab-rails (and reinforcing these walls) will make the transition simpler. As will the removal of the non-load-bearing wall currently in-between the two children's bedrooms making way for more personal space as they grow.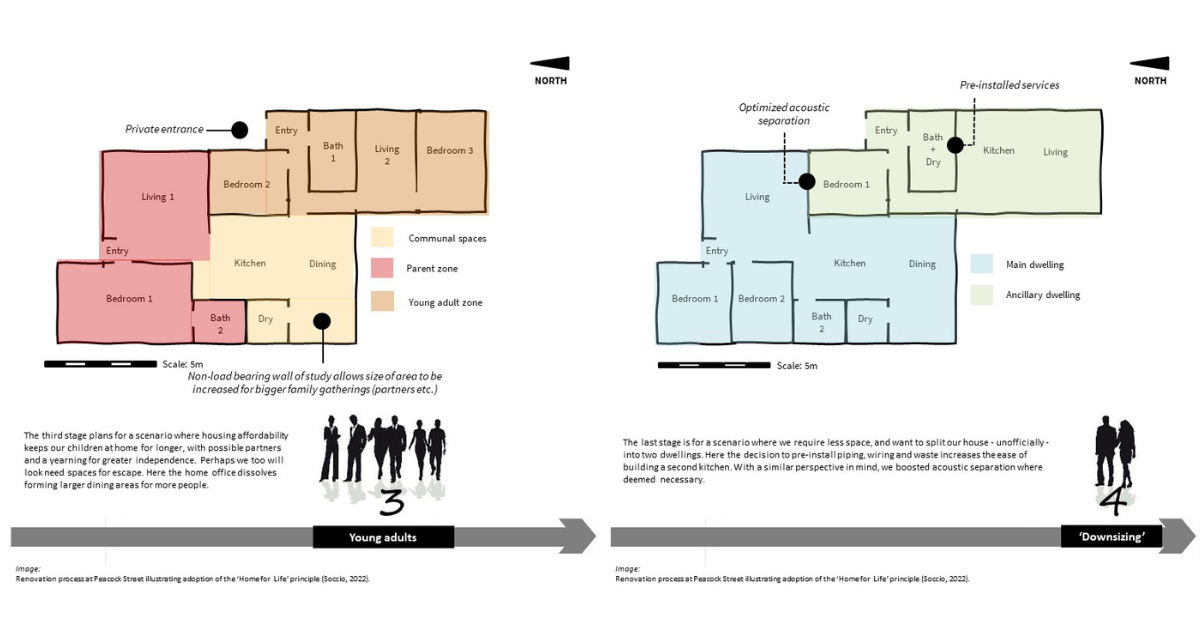 Phase Three: Plans for a future scenario where housing affordability keeps children at home for longer, with possible partners and a yearning for greater independence. Here the home office dissolves forming larger dining areas for more people.
Phase Four: The last stage is for a future scenario where less space is required and the house can be split into two dwellings. Here the decision to pre-install piping, wiring and waste increases the ease of building a second kitchen. With a similar perspective in mind, acoustic separation within the critical internal walls was boosted. Across all four stages, the building retains its connection back to views and vistas of the various open spaces.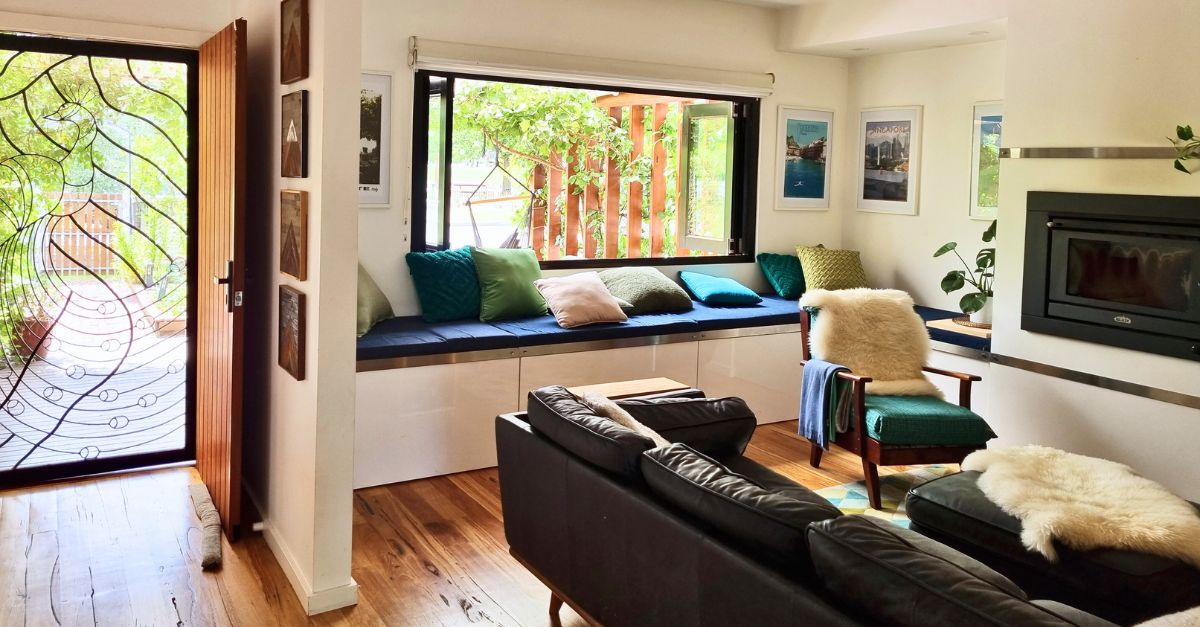 Direct nature: The renovated living room is designed to maximise views of nature. The large seat in front of the bi-folding windows bring the outdoors inside. Compared with pre-renovation, this room is now brightly illuminated with daylight and volumes of fresh air.
Direct nature: A fireplace provides the ambience, warmth and thermal texture.
Natural shapes and forms: Pippa and her family affectionately call their home the 'Pavone' House. Pavone means 'peacock' in Italian, and is inspired by the street name.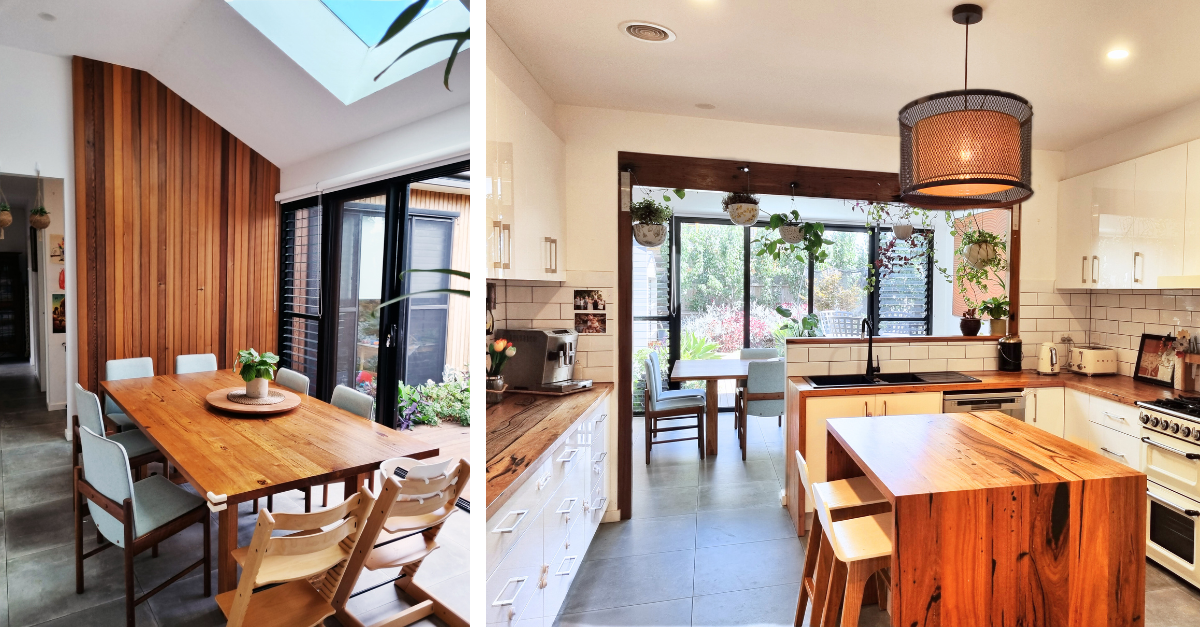 Age, change, and the patina of time + organized complexity: Dual exposed recycled timber post and beam systems pay homage to the past but also, due to their weathered appearance, celebrate the patina of time in all facets of life. The random pattern of fixings in the aged timber provides ideal places to hang plants of varying colours and textures.
Natural materials: Recycled hardwood benchtops and floors are finished with a wax polish to reduce VOCs (also by using low VOC internal paints).
Natural materials + (acoustic) refuge: The kitchen opens onto our meals area and a large red-cedar wall that seamlessly transitions from being an internal wall to external cladding that wraps the extension. The timber also has acoustic properties and combined with acoustic insulation (inside the cavity) improves sound absorption, shortening reverberation times. To further dampen the noise, acoustic lining was installed under the dining table.
Direct nature: A skylight allows natural light to shine into the dining space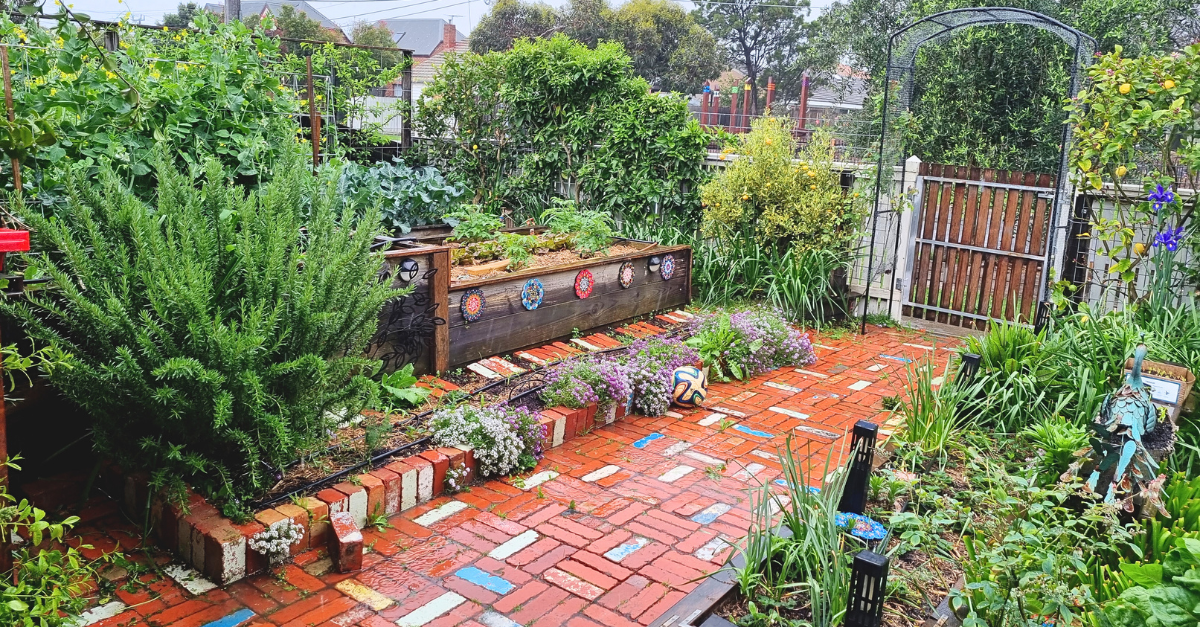 Direct nature: Pippa grew up in Darwin (Larrakia country) in a tropical house that sat nestled within a garden and has fond memories of playing outside. Now as a mother of two boys, it was important that their home was connected to gardens – both ornamental and productive.
Place: Produce from the front garden is shared with neighbours, fostering a strong connection to community and place.