Living Future Accreditation + Regional Intensive Course 2023
30 May at 3:00 pm

-

19 September at 5:30 pm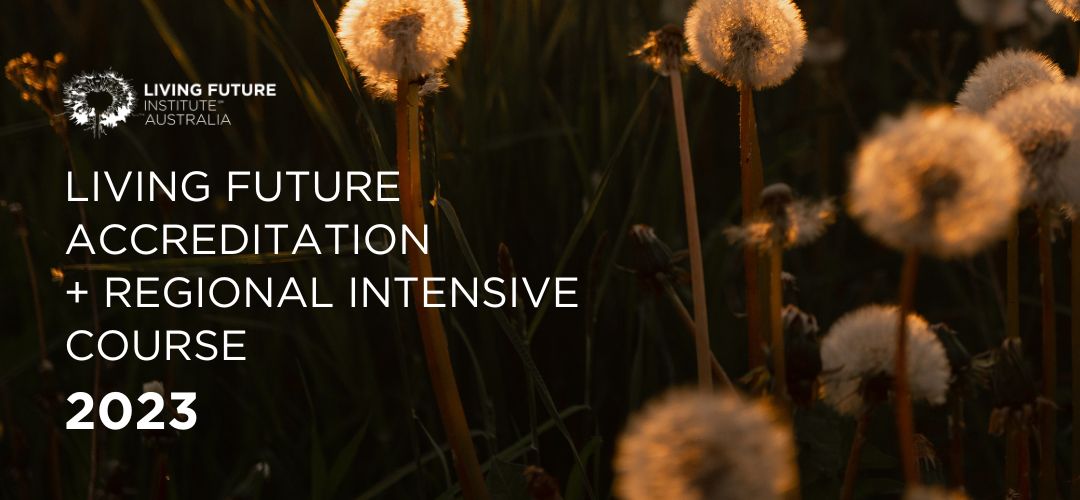 Become a local leader of the Living Future regenerative design movement.
Living Future Accreditation (LFA) is a professional credential, created by the International Living Future Institute (ILFI), that recognises proficiency in the world's most ambitious, regenerative and holistic design standards. With a Living Future Accreditation, you have an opportunity to deepen your knowledge and expertise at the leading edge of regenerative design and Living Future programs.
Who should attend?
Built environment professionals eager to take action to transform our industry towards a regenerative design philosophy, including:
Architects and Landscape Architects
Urban Designers
Engineers
Sustainability Professionals
Project Managers
Developers and Contractors
Specifiers
Manufacturers and suppliers
Interior designers
Government and policy leaders
Team and Community Leaders
Philanthropists
Educators
Students
Format + Inclusions
The blended LFA program includes:
20 hours of self-directed learning using ILFI online modules to complete your 20 Foundational Credits.
15 hours of live workshops to explore turning theory into practice through case studies and guest speakers. Hear from local project teams, key stakeholders, and members of our Technical Working Group as we explore how to apply the Living Future Programs to the Australian context.
5 learning circles to explore ideas further in smaller groups and build a community of practice.
1 Digital copy of Creating Biophilic Buildings by Amanda Sturgeon
Why this format?
The purpose of this blended LFA program is to make the most of online content, whilst creating qualified LFA professionals grounded in the local context, and who can operate as a cohort of connected people, supporting each other as they take on projects into the future.
Why should you attend?
Depth and diversification of advanced regenerative design knowledge:
Familiarity with the International Living Future Institute's certification programs, labels, and initiatives
Understanding and taking a leading role in regenerative design
Project and career opportunities for impact:
Growth in your capacity to work on and advocate for advanced regenerative design projects
Distinguishment as a leader in your industry
Eligibility to fulfil the LFA project team member requirement on LBC 4.0 projects (per Imperative 20 'Inspiration & Education')
Preparation and confidence for working on projects pursuing Living Future Challenge certifications and labels
Personal use of post-nominal initials (LFA) and official LFA seal
Global community of LFA peers:
Connection with fellow LFA professionals and Living Future Members through opportunities provided by LFIA and ILFI
Joining a local and international community of practice that shares a common vision for a living future
Participation in this event is approved for the following continuing education credits:
20 Foundational LFA CE credits (LFA Foundational Curriculum)
15 General LFA CE credits (live workshops)
3 General LFA CE credits (Creating Biophilic Buildings by Amanda Sturgeon digital book)
Upon successful completion of this course, the learner will have completed all education required to achieve Living Future Accreditation.
Course Co-Facilitators

Key Information
Course Dates: 30th May – 19th September 2023 
Learning Modes: Self-directed, workshop, learning circles (as per course format and schedule below )
Requirements: Living Future Membership is required for the course and as a working LFA professional
Required Knowledge: a basic understanding (LBC Intro Course, familiarity with LBC Handbook) is expected, but an intermediate understanding (knowledge of how the LBC works as a tool) will help you get the most out of the course.
Course Cost: Approx $3,200 +GST (If the upfront cost is a barrier, please contact us to request payment in two instalments)
Group size: Approx 25 people
Tools we will use:
Zoom
Slack
ILFI Education Portal
Google Docs
Mural
Important notes:
Online workshops will NOT be recorded – please make sure you are able to attend.
Confirmed 2023 Course Schedule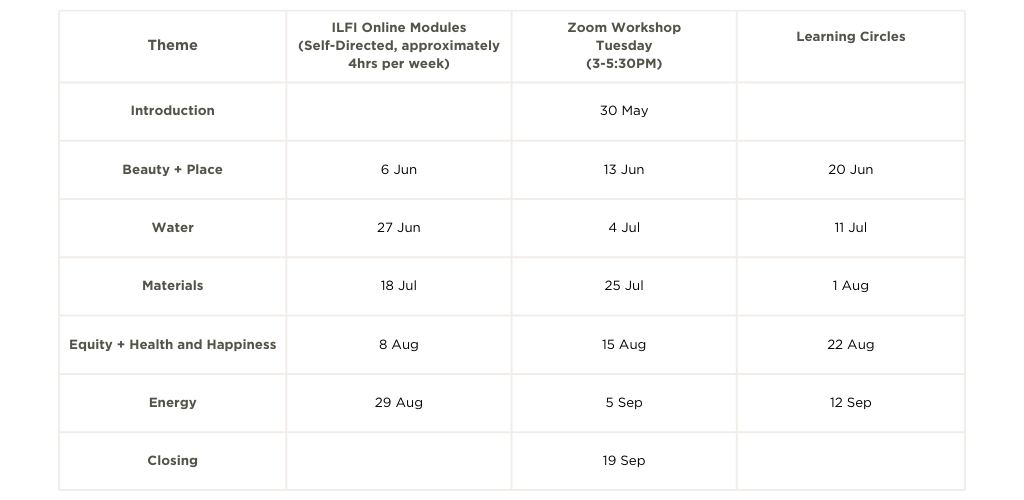 Enrolment Closed – 2023 Cohort full
Thank you for your interest in our LFA + Regional Intensive Course. We run the course annually – if you are interested in participating next year, please fill in our EOI form below to receive updates.