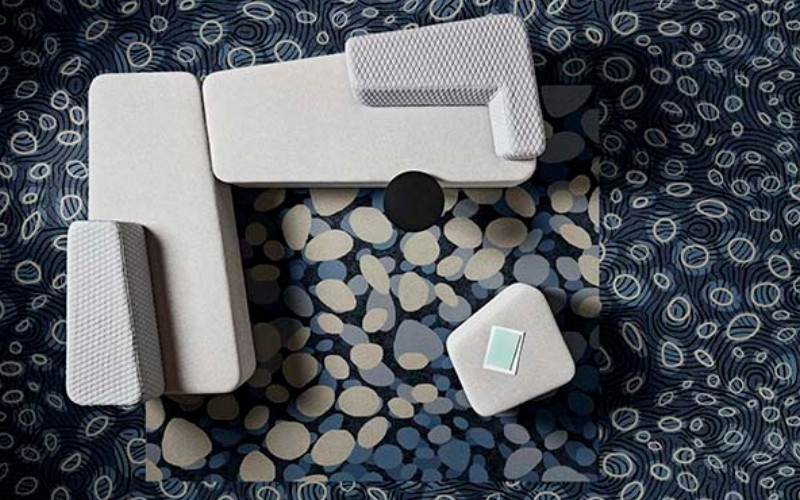 Joel Williamson, National Commercial Sales Manager at GH Commercial, tells us about their Oceanic Collection and how it promotes better health for people and the planet. 
What was the motivation behind GH Commercial choosing the ocean as inspiration for this collection?
We knew we wanted to create a collection inspired by nature and the stunning natural environments found here in Australia and New Zealand. We were immediately drawn to the naturally calming effect that the ocean can have, but we wanted to dive deeper (pardon the pun!). It's been documented that the sound and sight of the ocean is easy to process, and it can even change our brain wave frequency, putting us into a meditative-like state.
Why were the Tasman and Coral Sea chosen as the locations that inspired the Oceanic Collection?
We wanted the collection to have a close-to-home feeling because we have observed many product collections that are inspired by nature but the elements they use are closer to those centres of manufacturing. GH manufactures much of our commercial product portfolio in Australia and we wanted to reflect the stunning beauty found on our own doorstep. We wanted to showcase that stunning design inspiration can be found everywhere in this geographic region, but those two oceans specifically are teeming with so much life and biodiversity, our locally based design team kept getting drawn back to them.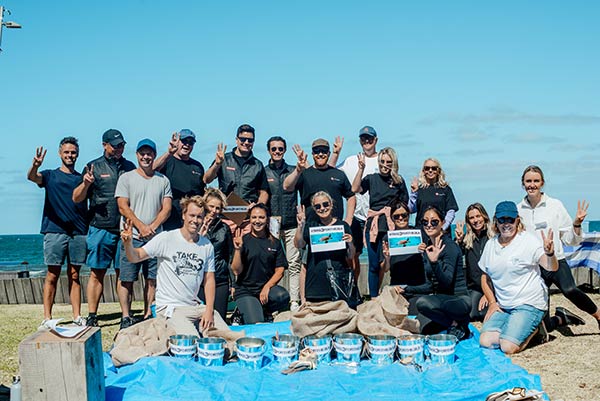 What was the motivation for choosing to partner with Take3 for the Sea? How does their work support GH Commercial's sustainability initiatives?
At GH Commercial and our parent company Mohawk Group, our sustainability motto is simple but real – Believe in Better. As part of the world's largest flooring manufacturer, we feel a profound sense of responsibility to advance our shared mission of a more sustainable future.
Every day we engage in simple actions to help make a better tomorrow and this mission closely aligns with Take 3 for the Sea and the global movement they have built. Their simple action for the complex problem of plastic pollution is to take 3 pieces of rubbish when you leave the beach, waterway or anywhere, and you will have made a difference.
Through our support for Take 3, we make an annual donation from the proceeds of the Oceanic Collection, contributing to education programs for schools and local communities, and we organise local beach clean-up days with our staff to ensure we are actively taking part in the plastic pollution solution. Our last clean-up day at St Kilda's main foreshore promenade resulted in over 2,500 pieces of rubbish being collected in an hour diverting it from our waterways. A stark affirmation of our sense of responsibility to help drive sustainability within our organisation and our wider industry.
What sort of mood, emotion or feeling do you hope that the Oceanic Collection will bring to a space?
We are fascinated by the way our brains process natural patterns and fractal elements giving a more relaxed environment, increasing productivity in staff and delivering interiors that are fun! Traditionally, biophilic design doesn't sit under corporate sustainability pillars or goals, however through mounting research, we can see how incorporating nature and biophilic design into interior spaces can improve the health and wellbeing of building occupants, which in turn provides significant contribution to an organisation's sustainability journey.
If you were to consider a commercial building, its contents and occupants, there are tremendous amounts of resources that go into the ongoing operations to sustain the building. On a pure cost analysis, the occupants of the building are generally the highest single investment in that building. Delivering interiors that are happier, healthier and more productive is a huge step in creating a sustainable wholistic solution as much as the areas that are usually thought of as the traditional sustainable elements of running a building such as energy, water, and waste.
We hope that the natural elements used in the Oceanic Collection designs inspire the occupants of the space in what they do, bringing joy and fun to the interior while providing spaces for mindfulness and escape to assist throughout the day. We also hope that the Collection will inspire people to try to make a difference in their own way when it comes to caring for the Oceans and waterways in this region.
What was the driver of the decision to make Designer Jet® Sheet and Planks Red List Free?
Material health is an integral pillar to our sustainability journey. With every product we make, we are continuously challenging ourselves to ensure safe and healthy ingredients are used to create healthier indoor environments. Knowing that these Australian made Designer Jet® products had no nasty ingredients drove us to obtain Red List Free status for client peace of mind.
Similarly, what was the motivation for obtaining Declare Labels for your Designer Jet® Sheets and Planks?
The key driver for joining the Declare program was product transparency. We knew our Designer Jet® Sheet and Planks were great products that contained no nasty chemicals, but were concerned by research showing some finished carpets contain chemicals from the Red List, which are known to cause harm to human health.
We saw the Declare platform as an opportunity to support our product transparency mission and an easy way to educate our clients and customers on choosing healthier materials in the built environment. We are now in the process of certifying all our products. It's a meticulous process, but an important one that we hope other manufacturers follow.
Can you tell us about a particular challenge that came with the process of getting these products Declared that GH Commercial overcame – did it inspire any lasting change to your products or organisation?
The biggest challenge was getting our supply chain on board. As a manufacturer we understand proprietary ingredients and the fear around being fully transparent, but we've embraced it and haven't looked back. We've even shown organisations within our supply chain to appreciate the bigger picture and demonstrated the value of the Declare program.
The Declare program has inspired change within our organisation too, we're certainly stricter on auditing our suppliers and their ingredients before our product development process.
What are some places or spaces that you envision this collection being used in and how do you hope their use will reconnect people with the ocean?
The Oceanic Collection is designed to complement a range of commercial interiors – the standard collection features both subtle patterns that would be more suited to workplace or retail applications and bolder, more vibrant designs with large pattern repeats, perfect for enhancing the ambience of any hotel, entertainment, or public space venue.
We also offer custom capabilities where designers can simply recolour an existing pattern or design a completely new one, a great way for building a unique oceanic connection with those who use the space.
Whichever pattern you choose, the Oceanic Collection provides a sense of place and a connection to nature that aims to keep building occupants and visitors feeling safe, healthy, happy and wanting to return to the space.