This Sunday is the UN's International Day of Forests, and the theme this year is "Forest restoration: a path to recovery and well-being". This theme captures a range of environmental and social issues that require healthy forests as a solution. Climate change, biodiversity loss, Indigenous Peoples' rights and sustainable development are just a few issues that are directly impacted by deforestation.
The UN estimates a loss of 10 million hectares of forest annually. This puts the 1.6 billion people that depend on forests for food, shelter, energy, medicines and income at risk; it threatens the 80% of terrestrial species that call forests home; and it is responsible for between 12-20% of global greenhouse gas emissions that contribute to climate change.
It's clear that we need healthy forests for a living future, and a key to healthy forests is management. The Forest Stewardship Council is an international not-for-profit that promotes responsible forest management. Their approach to product and forest certification is closely aligned with the holistic philosophy of the Living Building Challenge.
To celebrate this International Day of Forests, we asked FSC ANZ to share a little more about what they do to save forests and how built environment professionals can help.
What is FSC?
The Forest Stewardship Council (FSC) is a non-governmental, not-for-profit organisation. FSC harnesses the power of the marketplace to promote the responsible management of forests by offering a voluntary certification scheme.
FSC is a membership organisation with a governance structure based on participation, democracy, equity, and transparency. It's a unique forum where environmental, social, and economic stakeholders from around the world meet and, through consensus-based multi-stakeholder processes, define essential economic, social, and environmental criteria for forest management.
Widely accepted as the gold standard, FSC is your assurance that the wood and wood-based products you source meet the world's most stringent forest management and sourcing standards.
How did FSC come to be?
The genesis of FSC can be traced back to the 1992 Earth Summit in Rio, which failed to produce a solution to curbing deforestation. In response, a group of businesses, environmentalists and community leaders came together to create the Forest Stewardship Council. The first gathering took place the following year at the first FSC General Assembly in Toronto, Canada. There, stakeholders set out to create a voluntary, market-based approach that would improve forest practices worldwide. This positioned FSC as an alternative to boycotts of forest products, which had proven to be counterproductive since they devalued forest land.
Today, FSC operates in more than 80 countries – wherever forests are present. The original HQ was in the forested region of Oaxaca, Mexico, but in 2003, it was relocated to Bonn, Germany.
FSC has been present in Australia and New Zealand since 2001. FSC ANZ's responsibilities include implementing a range of related programs in the region on behalf of FSC International, as well as promoting responsible forest management by developing standards that are adapted to local circumstances in multi-stakeholder, consensus-based processes.
How is FSC governed?
FSC is a democratic organisation that is governed by members that can join one of three chambers: environmental, social or economic. Voting is weighted to ensure each chamber gets an equal say. FSC ANZ's Board also consists of three directors from each of the three chambers to ensure that influence is shared equitably between different interest groups and levels of economic power.
This chamber-balanced approach is replicated in the development of FSC's standards for forest management, which ensures that they drive environmentally appropriate, socially beneficial, and economically viable forest management.

FSC Australia recognises that as the nation's original stewards of the land, Aboriginal and Torres Strait Islander peoples have historically maintained the health of Australia's forests, and continue to perform this role through their unique knowledge of and continuing connection to lands, waters, and communities.
To ensure the spirit of FSC's commitment to responsible forest management is upheld and authentically implemented, FSC Australia in 2015 convened an Indigenous Working Group (IWG) which guides and supports its work. The IWG has absolute focus on ensuring Australia's First Nation Peoples can benefit from the various components of the FSC system.
How many hectares of forest in Australia is certified by the FSC?
Today, more than 220 million hectares of forest are certified under FSC's system, including more than 1.2 million hectares in Australia and 1.3 million across New Zealand.
Based on rapidly increasing demand for FSC-certified wood and wood-based products in Australia and New Zealand in industries like construction, paper and packaging, FSC ANZ aims to grow the combined area under certification to six million hectares over the next five years.
What are some requirements of FSC managed forests?
Forest management inevitably carries an impact on ecosystems, however, FSC-certified forest management requires forest owners/managers to minimise negative impacts to avoid and compensate for any form of forest degradation. Some examples include avoiding negative impacts on water quality; maintaining the continued existence of naturally occurring native species; preventing losses of biological diversity through habitat management; harvesting at or below a level that can be permanently sustained and, regenerating vegetation cover in a timely fashion to pre harvesting or more natural conditions.
Rare, old-growth forests and other high conservation value areas enjoy strong protection in FSC's normative framework. The Australian FSC standard describes an old-growth forest as an "Ecologically mature forest where the effects of disturbances are now negligible". Forest managers are required to maintain and/or enhance this high conservation value. This precludes commercial harvesting and limits management activities to the removal of trees that are not characteristic to old-growth forest as well as tree removals for safety and access provided this is justified.
The rights of Indigenous Peoples are prioritised by requiring all FSC-certified forest owners and managers to identify and uphold Indigenous Peoples' rights of land ownership, use of land, and access to resources the land may provide.
What is the difference between Forest Management and Chain of Custody certification? And how does that apply to certified products?
FSC's certification system has two key components: Forest Management and Chain of Custody. Forest Management certification is issued at the forest level to drive responsible forestry.
FSC Chain of Custody certification traces the path of products from forests through the supply chain, verifying that FSC-certified material is identified or kept separated from non-certified material throughout the chain.
While FSC's Chain of Custody standard predominantly concerns traceability to ensure the integrity of supply chains, it also sets occupational health and safety requirements. And just this month, core labour requirements were integrated into the standard to ensure the protection of basic workers' rights.
Forest managers who wish to enter their certified timber into the FSC supply chain are also certified to FSC's Chain of Custody standard.
What else can built environment professionals consider when choosing FSC-certified products?
There are more than 50,000 species of timber around the world Yet, commercially we only use a small portion of these.
The most popular species in the world are under pressure, and at the same time, lesser-known timber species (LKTS) are under-utilised. FSC works to commercialise new hardwood species from FSC-certified forests. This will improve livelihoods and protect biodiversity for generations to come. What's more, a diversified purchasing strategy makes business sense: as a relatively untapped resource, LKTS often cost less than their popular cousins.
Examples of Australian LKTS are Darwin Stringybark (Eucalyptus tetradonta), Cooktown Ironwood (Erythrophleum chlorostachys), and Melville Island Bloodwood (Corymbia nesophila). Found across northern Australia, these species are known to be some of the hardest, densest, and most durable timbers in the world.
FSC ANZ is currently working with northern Australian Indigenous communities – who own, manage or have special rights to around 46Mha of northern Australia's 65Mha forest cover – to empower them to build a forest-based economy that respects ecological limits, values, people, and culture. If successful, these projects will see Northern Australian LKTS enter the Australian market with an FSC claim.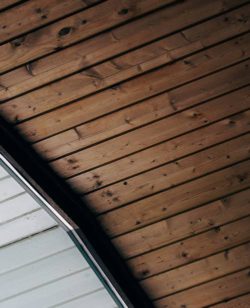 Does FSC do anything to help bring more FSC-certified timber to the construction market?
Construction projects using FSC certified wood have a three-fold advantage. First, FSC as the gold standard in responsible forest management verifies that the wood is from well-managed forests. Second, FSC is the only recognised forest products certification standard for both leading global green building promotion schemes: Leadership in Energy and Environmental Design (LEED) and the Living Building Challenge. Third, the public procurement policies of many countries, require FSC certification as proof of compliance with public procurement requirements, to varying degrees.
Curiously, in Australia, there are two contradictory and almost mutually exclusive perceptions regarding the supply and demand for FSC-certified construction wood. On the one side, many forest managers are under the impression that there is no demand, and on the other side, built environment professionals often face supply constraints. Addressing this conundrum is a key focus for FSC ANZ over the next five years.
As part of this work, FSC ANZ is partnering with the LFIA to promote FSC-certified timber products and to ensure forest managers are aware of the growing need for FSC certified timber.
FSC ANZ is also in ongoing conversations with major non-certified forest owners in Australia to encourage them to obtain FSC certification. If successful, this is expected to have a cascading effect down through the supply chain and e.g. see increased availability of certified timber for construction.
As such, FSC is working to increase both demand for and supply of FSC-certified timber.
Is it enough for a supplier to have an FSC certificate, or are there additional verification steps a manufacturer needs to take to ensure that the certificate is relevant to the actual timber being purchased?
There are a couple of things companies should check when purchasing products from an FSC-certified organisation.
Firstly, companies should check that the certificate remains valid and that the products they are purchasing are within the scope of the certificate. They can do this on www.info.fsc.org by typing in the supplier's unique 'FSC License Code' (Example: FSC-C######) or by searching for the supplier's name.
Secondly, FSC certification is applied to individual products. This means a company may sell FSC certified products as well as uncertified products. If you are a company buying FSC-certified products from a supplier, always check your invoice to verify that the product has an FSC Chain of Custody certification code – this is how the FSC claim is passed on to you.
The first step helps you verify that the supplier can sell FSC-certified products, while the second step helps you verify that the products you receive are certified. Suppliers can learn more by watching our guide.
In a simple sentence, can you tell us how choosing FSC products can save forests for the future?
FSC matters for forests, people, and wildlife. But moving pictures tell a better story, so here is a video that can do this statement justice!
To learn more about FSC ANZ visit their website.